What would you do if you found yourself holding the last seeds of a wonderful tomato in your hands?  Would you brush them off on the ground and move on with your day, or would you try to save the plant and keep diversity in the food supply?
This is where we found ourselves earlier this year.
Our Story:
We've been growing the Ivan tomato for several years because it was a great tomato with huge production.  It seems to be able to withstand Missouri's weather and pests better than others we have tried. The Ivan tomatoes has a delicious old fashion favor and a deep meaty structure which does well for fresh tomatoes, canning and cooking.
This picture shows you the difference between an Ivan and a grocery store tomato. Which would you rather eat and feed to your family?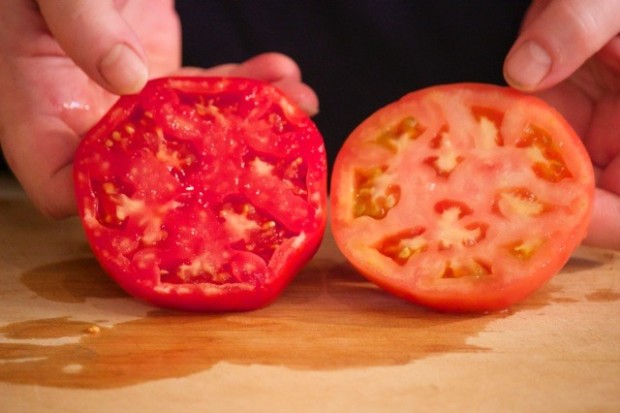 We found out that the family, who had been growing and selling the Ivan for generations, had stopped farming and no longer had any Ivan Seeds. We started searching gardening catalogs and asking people about the Ivan.  We found out there were no public sources available for Ivan seeds.  And the Ivan's had not been in a public catalog since 2011.  With that knowledge we started The Ivan Tomato Rescue Project.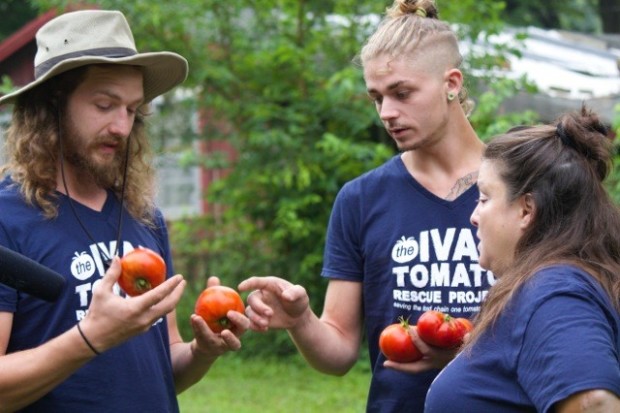 Who are we? 
We are three friends that believe in food supply, heritage heirloom seeds preservation, and the healing power of gardening.  We created a company called Victory Gardeners, and with your help we can save the Ivan Tomato.   To learn more about what we are doing check out our website at
www.victorygardeners.com
.  We hope you will support our campaign.
Laura Flacks-Narrol: Suburban Gardener, Canning Guru, Mother and Marketing/Business Manager
Jordan Casey: Millennial Farmer, Contractor, Idea Dude, Networker and Tomato Grower.
Curtis Hess: Millennial Farmer, Contractor, Spokes Person, Tomato Grower and overall Good Soul.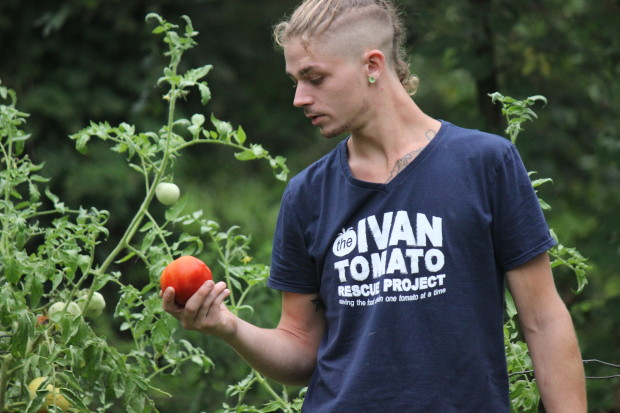 What is Our Plan
Stage 1) – The Ivan Tomato Rescue Project Initial Seed Launch
Grow enough tomatoes and save seeds to be supply the campaign.
Designed seed packages, print, fill and distribute into the hands of gardeners.
Design and supply Ivan shirts, stickers and aprons to reward our contributors.
Our goal is to supply between 500 and 700 seed packages through this campaign.
Stage 2) – Growing Ivan Plant Starts for Sale in the Spring Markets and Supply Seeds to Catalogs and Stores. 
With your support we will expand the Ivan production next spring.
We hope to grow upwards of 1000 plants and get them into farmers markets and trade shows.
We will also increasing our seed production to supply seeds to catalogs and commercial sales for the winter of 2016.
At this point the Ivan seed will also be stored in several seed banks ensuring it's safety and continuity.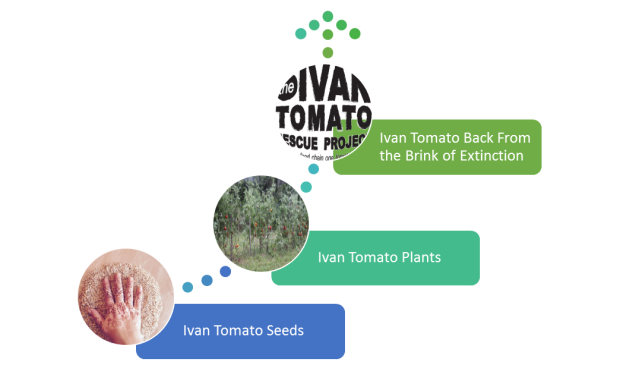 What will we spend the money on?
We hope to raise upwards of $10,000 to help us get this venture off the ground.   A portion of the funds will be spent on this years efforts of  marketing, packaging, distribution and indiegogo campaign costs.  The rest will be spent on building our plant stock for next spring and seed stock for the following winter.  In order to do this we need many things ranging from a market booth to a green house supplies.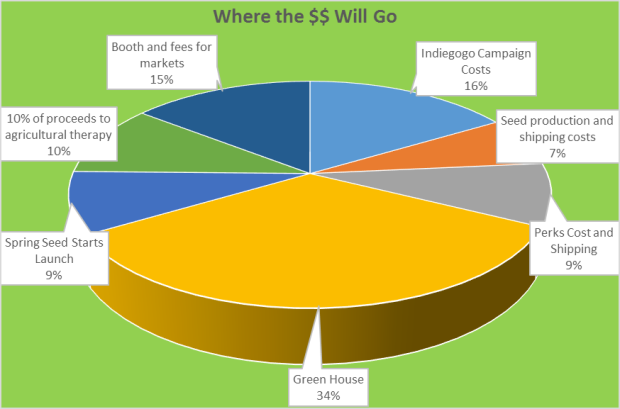 We will need to build a green house to get the plant starts going for next spring. Lucky for us Jordan and Curtis are handy guys and have been hording windows from old constructions jobs.  We plan to build our green houses with as much recycled supplies as we can.  However even with the best of intentions we need some materials to make it happen.  So if you have passion for the green house, feel free to help directly as a Gold or Platinum Green House sponsor.
What will you receive in appreciation for your donation?
Firstly, everyone will receive our heart felt thanks and the satisfaction of knowing you have helped safe the food chain. We appreciate your support and want you all to know that only together can we make a difference and save this tomato.
The Seeds:  
If you are a gardener you will want your own package of limited release Ivan seeds.
You can grow them in your backyard or in containers on your porch.  Just make sure you have fertile soil and keep it well watered.
You will also be welcomed into the Ivan Tomato Rescue Project Facebook group.  Here Ivan growers can share their experiences with the Ivan including sharing pics of the beauties as they grow.
With ever sale of seeds you will also get instructions on how to save seeds so you will be able to grow Ivan's for years to come.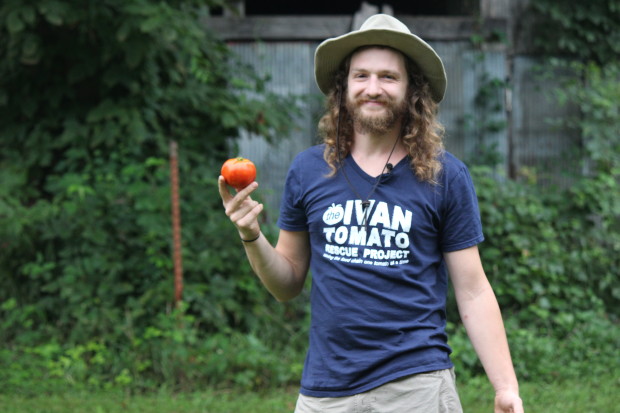 Ivan Gear:
Every donor will receive a Ivan Tomato Rescue Project and a Victory Gardeners Sticker.
Ivan T-shirts are available in both V-neck and Crew-neck.   The shirts are dark blue and have our Ivan Tomato Rescue Logo as Curtis is wearing in the picture above.
Ivan Aprons are available as well.  They are red with pockets and have the Ivan Tomato Rescue Logo on it so you can proudly support the future of the food supply while you make your favorite foods.
Recognition and Shout Outs:
For certain levels of support you can get shout outs on social media, your name on a plaque outside the greenhouse, or a blog post dedicated to yourself, your cause or your company.   These perks are detailed out on the sidebar.
We appreciate all levels of support and especially would appreciate it if you would share our video's and posts on social media. This is very easy to do and makes all the difference in the world to getting the word out about this great tomato and this great cause.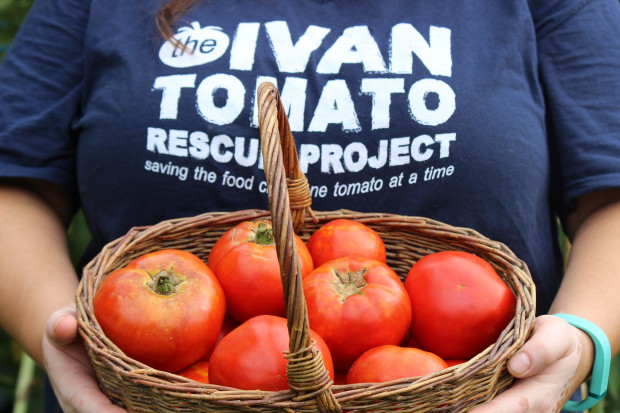 Why we are giving 10% of our proceeds to Agricultural Therapy?
There is one more aspect of our campaign that you should know about. We believe that gardening is healing.  The family that originated the Ivan believed this as well, and their farm was a home for Agriculture Therapy, helping Veterans and those with PTSD find healing and balance in their lives.  We are continuing this good work by donating 10% of the proceeds of this campaign to programs that offer agricultural therapy.
These programs will help those with stress related illnesses including Veterans returning from service.  It is estimated that 20% of those returning from active duty will have PTSD and only 50% of those will seek care.  We feel that through working the soil one can begin the process of bringing their soul back into balance and healing themselves.   Help us help others and heal themselves through the healing power of gardening.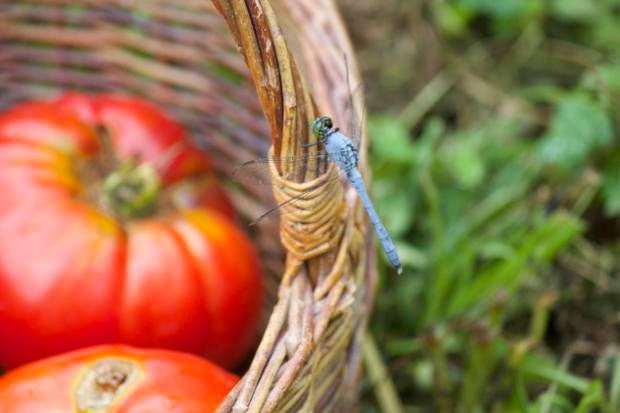 Help us save the food chain, one tomato at a time.  
Your contributions to our campaign are going to help heal the planet, the food chain and those in need. This is the Ivan Rescue Project.  We are Victory Gardeners and we are thankful for your support.